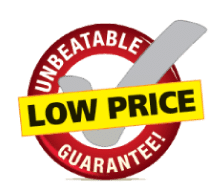 You are guaranteed the lowest price from Classroom Products LLC. Period.
If at any time you find a similar item in stock and advertised by any other dealer at a price lower than ours, Classroom Products LLC will fully protect you. *
Just call us at 800-315-0741.
*When matching online prices, our price match will be based upon the competitor's checkout price (including shipping and handling charges). Since we manufacture our own products, and nobody else sells them, we will base the value comparison on overall square inches of the product.